Network News & Social Feed
Animated Mother Goose
About this video
Get the KIDOONS News
Sign up to receive news and updates.
Stories
5 Days to World Premiere! TWENTY THOUSAND LEAGUES UNDER THE SEA WILL BE THE FIRST WORLD PREMIERE PERFORMANCE Commissioned by PANAMANIA, The TORONTO 2015 Pan Am/Parapan Am Games Arts and Culture Festival LIMITED RUN FROM JULY 11-15, ...
Read More
Read all articles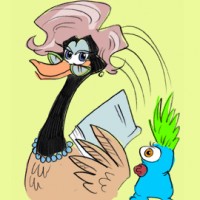 Welcome to Animated Mother Goose!
Here you will find a collection of fairy tales, nursery rhymes and children's stories that have been passed down through generations and published over centuries... Watch videos, read stories and download colouring books!
Old Mother Goose,
When she wanted to wander,
Would ride through the air
On a very fine gander.
Jack's mother came in,
And caught the goose soon,
And mounting its back,
Flew up to the moon.